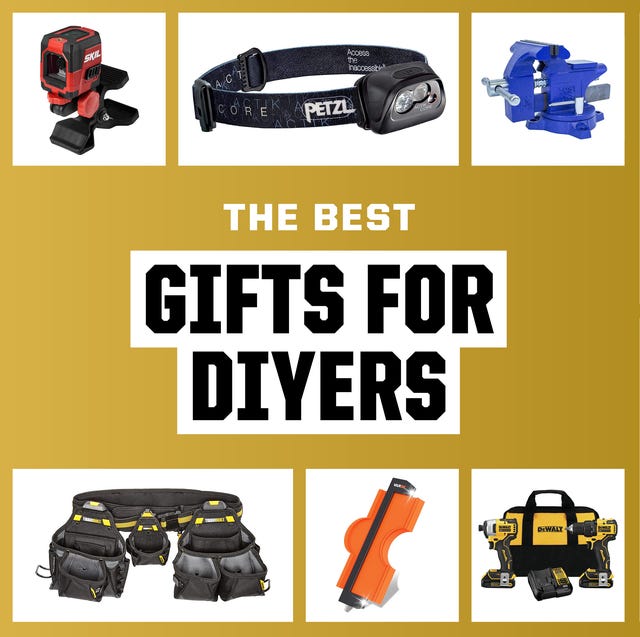 Staff
For the DIYer in your life who takes pride in tackling home repair and maintenance tasks themselves, finding the right gift isn't always easy. Luckily, we've curated this list of useful and valuable gift ideas to choose from, so you'll be sure to deliver a great present this holiday season.
Our personal experiences working on our own apartments and townhouse, as well as time spent as a residential carpenter in New York City, have given us a pretty good idea of what products would be most useful for the typical homeowner. We used this experience and insight to curate the best gifts for DIYers, paying careful attention to only include brands that we have come to trust over the years. We also kept pricing in mind, from $5 items to $200 power tool sets, so whatever your budget may be, you should find something in your price range.
Looking for more gift ideas? Check out our guides to tool gifts, gifts for woodworkers, and outdoor gifts.
Advertisement – Continue Reading Below
1
Best Laser Level
SKIL Self-Leveling Cross Line Laser
Whether you're mounting cabinetry, hanging wall art, or installing shelving, you need to make sure your work pieces are level. This SKIL laser level provides an easy-to-see green line (horizontally and vertically) and is able to level itself, so you can be sure everything is straight and true the first time.
More: Our Favorite Laser Levels Worth Buying
2
Best for Removing Hard-to-Reach Screws
Dewalt Right-Angle Attachment
We've been carrying this handy little attachment in our toolbag for years, and it has come in handy more times than we can count. Its 90-degree design allows you to drill screws and fasteners into areas that wouldn't allow for the length of a drill, like in tight cupboards, or awkward automotive applications.
3
Best for Long Measurements
Bosch 65′ Laser Distance Measure
This specific Bosch laser has saved us time and energy on dozens of construction projects, thanks to its accurate readings and straightforward design. It's small enough to carry around in your pocket until you need it, and the backlit display makes it easy to read in low-light conditions.
4
Best Mobile Work Surface
Worx WX051 Work Table
This multifunctional Worx worktable also doubles as a sawhorse, making it ideal for anyone tackling a wide range of home repair or maintenance tasks. It's also just 25 pounds, which is heavy enough to provide a sturdy foundation, and still lightweight enough to easily carry around a workspace.
5
Best Product to Keep in Your Trunk
Jump Starter Battery Pack
GOOLOO
www.walmart.com
$79.99
If you know someone who enjoys being prepared for anything, especially automotive issues, this jump starter would be a great gift. We've used this identical model to jump start our car on more than one occasion, and its USB charging cable allows you to easily keep it juiced up and ready to go.
6
Best for Duplicating Flooring Angles
VARSK Contour Gauge
If you're installing flooring or carpeting, adding a counter gauge to your tool collection would be incredibly valuable. The .05-inch teeth of this VARK gauge provide reliable, accurate measurements for duplicating the angles and curves found around door frames, moulding, pipes, or other odd-shaped elements.
7
Best Extra-Strong Magnets
Neodymium Rare Earth Magnets
LOVIMAG
amazon.com
$24.99
We've been using rare earth magnets for years, and have found more and more used for them as time goes on. Their super-strong attraction makes them perfect for locating studs behind drywall, wrangling screws that you don't want rolling away, or gluing to your hand tools and attaching them to your metal work cart for easy access.
8
Best Portable Organizer
Bucket Boss Tool Organizer
Bucket Boss
amazon.com
$22.99
Searching through cavernous tool boxes or bags can take up valuable project time, which is why this bucket organizer is so useful. It keeps its contents visible and within easy reach, features three hammer loops, and the open-topped design allows you to carry extra long items like caulk guns or clamps.
9
Best Work Gloves for General Use
Ironclad General Utility Work Gloves
These Ironclad work gloves are well-suited for nearly any DIY project, whether that's automotive work, carpentry projects, or gardening tasks. An integrated plastic plate protects your knuckles from impacts, and the hook and loop closure system makes it easy to have a tight and secure fit.
10
Best Screwdriver Set for Electronics
Klein Tools Precision Screwdriver Set
Klein Tools
amazon.com
$29.97
The 39 precision bits included in this set are perfect for working on electronics that use tiny screws and fasteners, like replacing a thermostat, or tinkering with a battery-powered toy. Plus, these bits are all magnetized, so you won't have to worry about dropping and losing those little screws.
11
Best for Maximum Light Coverage
Twin Head Work Light
Designers Edge
walmart.com
$43.99
If you're working in a basement, crawlspace, or anywhere with limited light, you'll want a freestanding work light like this one to ensure maximum illumination. The adjustable twin bulbs will help increase the overall accuracy of your work, as well as reduce the chances of safety issues, like tripping over an extension cord.
12
Best Drill/Driver combo
DeWALT Atomic 20V MAX Cordless Drill Combo Kit
DEWALT
amazon.com
$299.00
This 20-volt combo kit will have any DIYer covered when it comes to the majority of heavy-duty drilling, screwing, or driving tasks that may arise. By providing two batteries, you won't have to wait around for a single one to charge, and the included storage bag is a nice perk
13
Best Wire Stripper
Klein Tools 11063W Wire Cutter & Wire Stripper
Those interested in tackling their own electrical projects would definitely appreciate the versatility of this Klein tools cutter and stripper. Its unique design both grips and strips your wire with just a squeeze of the handles, and the center mounted cutting hole makes it easy to perform quick cuts.
14
Best Workbench Vise
YOST LV-4 Home Vise
As long as they have a sturdy workbench to attach it to, this Yost bench vise would be a great gift for any DIYer in your life. Its cast iron construction is rugged enough to take a beating, and the convenient pipe jaws make it more versatile than a standard vise.
15
Best for Painters or Trim Installers
Spring Tools Counter Punch
Spring Tools
amazon.com
$10.89
This little tool might not be used every day, but it's more useful than you might think. It's used by pulling back one end and releasing it, which concentrates the resulting force into the tiny head. This is perfect for tasks like setting nails or brads that are protruding from base trim, or popping out door pins.
16
Best Multi-Purpose Pole Saw
Sun Joe Convertible Pole Chain Saw
Anyone who tackles their own lawn care and landscaping would be excited to unwrap this multipurpose pole saw from Sun Joe. The interchangeable saw can either be used as a traditional chainsaw for lopping off lower branches, or attached to the head of the pole to reach overhead foliage.
17
Best Basic Screwdriver Set
Klein Tools 85146 Screwdriver Set
This 6-piece Klein tools screwdriver set would be a great addition to an experienced DIYer's tool collection, or a great first set for anyone just starting out. The rubber grips provide a secure, controlled grip, and the included magnetizer/demagnetizer lets you decide which you prefer.
18
Best Anchor for Hanging Heavy Items
SnapToggler Drywll Anchor (4-pack)
These toggle anchors can support up to 200 pounds each, and are a perfect gift for any DIYer who might be hanging artwork or mirrors on their walls. We exclusively used these anchors during our time mounting large office furniture, and consider them an essential part of a homeowner's toolkit.
19
Best Tool Belt
ToughBuilt Contractor Tool Belt
ToughBuilt
amazon.com
$69.99
This tool belt features an impressive 36 pockets and loops, so whether you're on top of a ladder, or working on the roof, you should have everything you need within easy reach. Plus, kickstands built right into the belt mean it won't fall over when you set it down.
20
Best All-Purpose Adhesive
Cold Weld Epoxy
This cold weld epoxy isn't just incredibly strong, it's also really easy to use. Just mix together the contents of each tube at a 1:1 ratio, secure your workpieces, and after about 36 hours you'll have a rock solid connection. You can use it on nearly any material, like metal, PVC, wood, and even concrete. 
21
Best Non-Toxic Rust Remover
Evapo-Rust Rust Remover
This rust remover is non-toxic and biodegradable, making it much safer to use than similar products, and allows you to use it without requiring gloves or a mask. It's also reusable, and just one gallon of the stuff can remove the rust from up to 300 pounds of steel.
22
Best Hammer for General Use
IRWIN 16-Ounce Claw Hammer
We've had this claw hammer in our tool collection for years, and even purchased identical models after losing or lending it out. Its 16-ounce weight is light enough to heft fairly easily, but still heavy enough to deliver an impressive amount of force to whatever you're working on.
23
Knipex Tools Snipe Nose Plastic Pliers
KNIPEX
walmart.com
$27.95
These plastic pliers are perfectly suited for use around live wiring, and despite their lack of metal components, are probably more rugged than you might think. They're also ideal for use on any kind of decorative fastener or wiring that would otherwise get scratched or scuffed by steel jaws.
24
Removes Broken Bolts and Stripped Screws
Alden Broken Bolt and Screw Extractor
Few things are more frustrating than encountering a broken bolt or a stripped screw head on a project, both of which can take valuable time to remove effectively. We're big fans of this Alden kit, which provides clear instructions on how to correctly use their double-sided extractors. 
25
Best Multi-Purpose Power Saw
Milwaukee M12 Hackzall
MILWAUKEE'S
amazon.com
$168.95
Whether you need to cut through PVC pipe, drywall, or tree limbs, this cordless reciprocating saw will have you covered. Its compact size makes it perfect for using it in tight or awkward spaces, and at less than 7 pounds in weight, it's comfortable to use one-handed.
26
Best Multi-Purpose Clamp Set
Quick-Grip Clamp Set
The quick-release triggers on these Irwin clamps make them comfortable to use, and are versatile enough for a variety of DIY projects. Their plastic resin construction keeps them nice and lightweight, and are less likely to scratch or gouge any delicate surface you might accidentally drop them on.
27
Best Headlamp
PETZL Actik Core Headlamp
A hands-free work light like this Petal headlamp can save a ton of time and frustration, especially when working in awkward or tight areas that aren't ideal for freestanding work lights. Its battery lasts for 160 hours without a recharge, and includes two beam patterns to choose from.
28
Best Compact Wireless Speaker
Klein Tools AEPJS1 Wireless Speaker
Klein Tools
amazon.com
$39.97
Whether you're painting a room, tending your garden, or tinkering in the garage, a little music always makes the job go by a little faster. This Klein Tools radio is compact enough to easily carry around while you work, and the protective rubber covering makes it a durable choice as well. 
29
Best Combo Kit for Light-Duty Repairs
BOSCH Power Tools Combo Kit
BOSCH
amazon.com
$169.00
$149.00 (12% off)
This kit includes a 12-volt drill as well as an impact driver, which will cover a lot of bases when it comes to a lot of basic home improvement or assembly tasks. Even if your recipient already has a more heavy-duty drill, the compact size of these tools still make them useful for light-duty tasks.
30
Best Hanging Work Light
Hanging Work Light
Proper lighting is essential when it comes to working on home maintenance and repair projects, and this Bayco light makes illuminating your workspace easy and effectively. A top-mounted hook allows you to hang it wherever you like, and the protective metal cage keeps your bulb in the event of a fall or drop.
More: Essential Tool Gifts for Your Handyman
This content is created and maintained by a third party, and imported onto this page to help users provide their email addresses. You may be able to find more information about this and similar content at piano.io
Advertisement – Continue Reading Below
.