Warning: Spoilers for Creed: The Next Round #3 Michael B. Jordan promised to expand the Creed franchise, and the latest issue of the sequel comic series shows how it will stay true to the movie trilogy's themes. Creed: The Next Round has unveiled Adonis' long-lost sister, resurfacing at his daughter Amara's behest, as she looks for a trainer. While dealing with childhood animosities toward Artemis, Adonis is also dealing with a mysterious business rival scooping his potential investments.
Creed: The Next Round #3 – by LaToya Morgan, Jai Jamison, Andworld Design, Wilton Santos, DJ Chavvis, Valentine De Landro, and Marissa Louise – reveals this shady competition to be Alexander Creed, Adonis and Artemis' brother, who announces himself as the new manager of Amara's new rival, Jamie «Slayer» Pierce, further complicating the family drama of the series.
Related: Michael B. Jordan Racts to New Creed Comic Officially Hitting Shelves
Family Continues To Be The Theme Of The Creed Expanded Universe
While the Creed family drama escalates, Jamie Pierce has her own to deal with. The first section of Creed: The Next Round #3 is dedicated entirely to telling Pierce's backstory, revealing that she's a generational talent. Her grandfather was the Beantown Bruiser, Moses «The Hammer» Piece, who rose to fame during Apollo Creed's time on top, boasting a 34-0 undefeated record. When he finally did lose a match, he lost the adoration and respect he had, being reduced to a sandwich maker. His failures carried into Jamie's upbringing and were a constant source of bullying for her growing up. Now, she's ready to rebuild the Pierce name, at the Creed family's expense.
The Newly Introduced Creed Siblings Give The Franchise New Life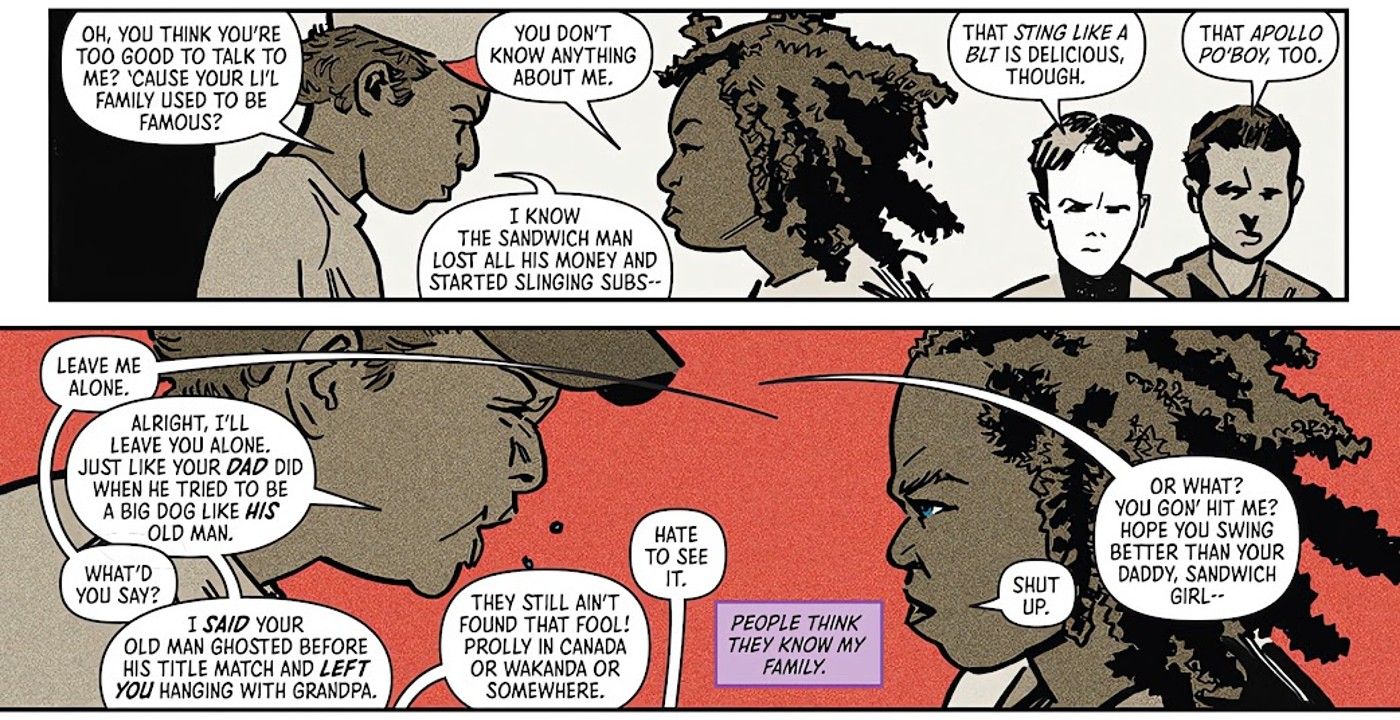 The Next Round #3 goes on to reveal Artemis has no part in Alexander's schemes. As Adonis puts it, «he's siding against the family.» Both the revelation about Adonis' brother and Jamie's backstory speaks to the themes at the center of the franchise. Much of Creed's franchise has always been about family. The first Creed established how much Adonis Creed was plagued by the shadow of Apollo, a father he never met, before ultimately accepting his legacy. Creed II saw his journey mirrored directly through Viktor Drago and his family. Creed III carried on this theme, bringing in Adonis' childhood friend, who was more like family than his siblings.
The comic book sequel deals with those same themes, showcasing how family can be pulled in different directions. Alexander Creed's involvement turns this into a family affair, but Jamie's involvement shows how even those who aren't directly connected to Apollo's legacy are fighting for their own family. It's a very similar journey to what Viktor Drago went through. Of course, Ivan's insistence on restoring honor to the Drago name contradicted Viktor's desire to make a name for himself. For Jamie, though, she wants to restore her family's legacy as much for herself as she wants to for her famous grandfather.
Ironically, rather than divide the family further, Alexander's betrayal only serves to bring the other Creeds closer in The Next Round #3, as the final page ends with Adonis' arm around his estranged sister, surrounded by the rest of his loved ones. In the Creed franchise, a family can ultimately be embraced despite a character's reluctance, with the acceptance of their loved ones coming at the most pivotal moment it can. As the Creed franchise expands into other media, so does the overarching themes of family, and how a family's shadow can carry as much of a burden as it can be a blessing.