Meryl Streep and Paul Rudd join the cast of Only Murders in the Building for season 3, and they bring a much-needed freshness to the existing formula.
Only Murders in the Building — a twist-turny murder mystery meets lighthearted farce — has been hitting home runs since its premiere season. The show adequately balances its unpredictable, suspenseful storylines with over-the-top characters who benefit from deft portrayals that are equal parts humorous and heartfelt. 
In the latest season, our favorite trio (the straight-laced and nerve-ridden Charles-Haden Savage, the flamboyant and spry Oliver Putnam, and the millennial cynic with a sensitive soul Mabel Mora) are joined by Meryl Streep and Paul Rudd, as two actors cast in Putnam's Broadway play Death Rattle. And, in absurdist Oliver Putnam fashion, the leading suspect is a baby, in the lighthouse, with a rattle. 
Rudd and Streep steal the show, as our beloved trifecta willingly cede the spotlight for a season that strays from the show's primary setting at the Arconia and heads to the stage. And these two stars aren't merely dishing out cameo appearances with a couple of zingers. They're seizing the helm and seizing our hearts in tandem. 
Spoiler Warning for 'Only Murders in the Building,' Season 3, Episodes 1 and 2
Meryl Streep shifts seamlessly from bad acting to tender authenticity 
When Streep's Loretta Durkin auditions for "The Nanny" in Putnam's new play, she delivers the monologue with a theatrical tenderness. The gestures ever-so-subtly heightened, the vocal cracking more distinct than customary of screen acting. When on stage, you must deliver for the back row, yet this is still a TV show, so Streep retains a necessary degree of subtlety so as to not sully her performance with too much grandiosity. It's perfect. Her audition snags her the role. But, this is the Streep we're used to. It's not exactly surprising. However, somewhere between her audition and the first read-through, Loretta loses her way.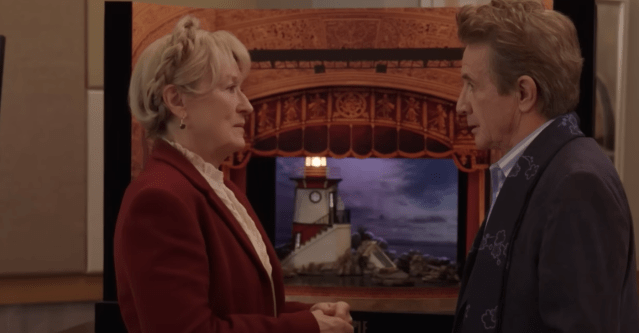 At the read-through, she tries a few accents on for size — a thick Scottish brogue and a French Canadian dialect to be specific. She argues for the former due to a "childhood in Aberdeen" and the latter as it's aligned with the play's setting in the Maritimes. Two tiny tidbits of information that she grabs onto as substantial enough to deliver such exaggerated, would-be mockeries — if not for her earnest expression and downright conviction in such choices as "part of her process."
Loretta argues that this is how she finds her character's voice. The accents alone are laugh-out-loud funny but it is the meta humor at play here that really seals the deal. Not only is Streep playing a bad actress (in what parallel universe?!), she's playing a bad actress struggling to find her character's voice. In and outside of Tinseltown, Streep is celebrated for her effortless ability to alter her pitch, pronunciation, and tongue placement in roles like The Iron Lady, Sophie's Choice, Julie & Julia, and more. Her accents are part of her Acadamy Award-winning legacy. We see you OMITB, and we appreciate you and all you're doing for us cinephiles at home. 
Later, when Streep is no longer acting as Loretta acting, and she gets to just act as Loretta (did you follow that?), she becomes a lovestruck woman with an innocent crush on Oliver. They sit at the piano and sing together, as she makes a move on the man she's been professionally keeping at a distance. It's sweet and sensitive. Uplifting with a touch of somberness. She's back to Meryl the great actor…moments after she's Loretta: the woman who either fumbles during read-throughs or had an epiphanic breakthrough at her audition that will never surface again. For Oliver's sake, we're hoping for the former.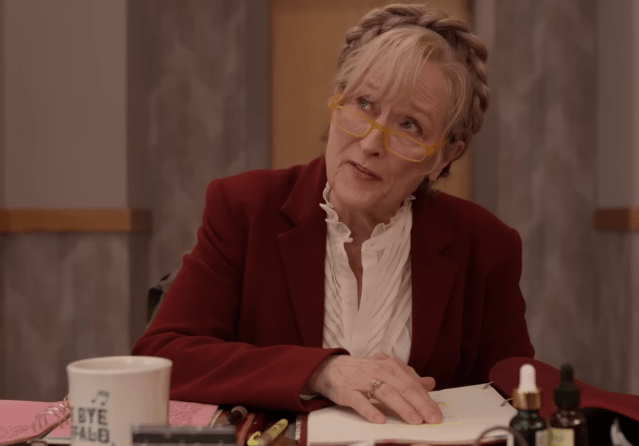 Paul Rudd's take on vulnerable narcissism is gloriously entertaining 
Paul Rudd's Ben Glenroy storms into the read-through late and commands everyone's attention. He flirts with one co-star, lets another know he's "too handsome," and warns Loretta that he better not upstage him…waiting a bit too long to let her know that he's joking. He is a supreme narcissist on an ego trip. He's the Marvel star in a room of D-listers, and he is unabashedly larger-than-life. A little meta-humor surfaces once again, as Ben's most famous film character is CoBro: a character who is both a cobra and a bro (and a reference to Rudd's MCU superhero who is both an ant and a man — a character and title that would scream low-budget disaster outside the big-budgeted superhero space). 
Later on, when Ben opens up to Charles and Oliver, it becomes clear that his confidence is merely a front for his insecurity. He uses this scene-stealing persona to masquerade his imposter syndrome. And, only Paul Rudd, the ageless and charismatic wonder, could pull this off. Somehow, we don't even hate him when he's being a jerk. For, when he plays an '80s cop with frosted tips on Mabel's TV — who Mabel imagines in her living room — he's a sage of sorts: doling out advice about the wonders of being a late bloomer with a twinkle in his eye and side smirk that screams sensitivity.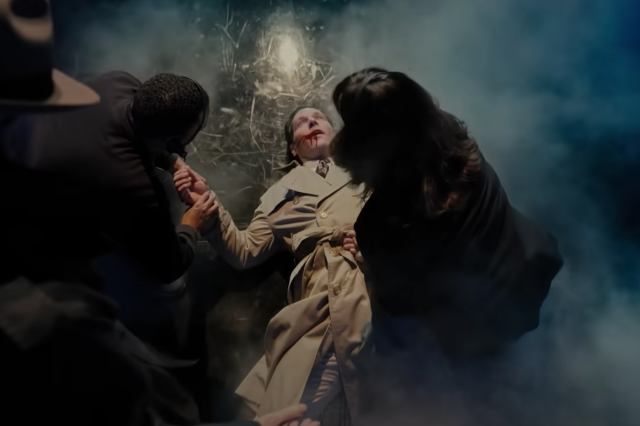 Paul Rudd ventures from loud and obnoxious to soft-spoken and nurturing to vulnerable and afraid all within the show's first two episodes. And, then, to top it off, he ends episode 2 with some glorious physical comedy. 
At the end of episode two, Charles and Mabel realize that Ben died with a handkerchief in his hand, and it's likely that he pulled this off the body of his killer as he fell to his death. Was it in the killer's pocket? Was it wrapped around the killer's neck? Paul Rudd gets the chance to wave his arms manically with a wide-eyed expression as he sees his life flash before his eyes…multiple times. It's prime physical comedy: exaggerated in body movements and fluid facial contortions really work to underscore the show's flair for slapstick. 
From Streep to Rudd, Only Murders in the Building is off to a gloriously comedic start, and we can't wait to see what season 3 has left in store.